Advisory partnerships: These are client led and exclusive, yet bespoke advisory and consultancy services partnerships. TREDIC acts as the sole provider and manager of all required and necessary outsourced real estate services.
Diagram showing the advisory development management model:
PROJECT / PRINCIPAL
TREDIC's CLIENT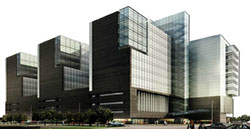 PRE-DEVELOPMENT

Development Strategy
Appraisal & Feasibility
Building design
Finance & Funding
Securing of building permits
DEVELOPMENT &
CONSTRUCTION

Construction tender
Procurement
Cost management
Construction management
POST DEVELOPMENT

Leasing / Securing operator
Marketing & Public Relations
Asset Management
Facilities Management
Investment sale & exit
Exclusive real estate service provider

The principal / client may only need to outsource specific elements of the
development process rather than engage a full development manager to lead the whole project. Typically this is because the client has significant in house resources. TREDIC would act as the sounding board on all areas of real estate strategy and as the exclusive delivery partner to successfully execute the services which are required
Completed Mixed-Use Development
TREDIC Corporation
Tel: +44 (0) 208 849 5646 Fax: +44 (0) 208 899 6001 Email: info@trediccorporation.com
Registered Address: TREDIC, Building 3, Chiswick Park, 566 Chiswick High Road,
Chiswick, London W4 5YA, United Kingdom.
Registered in England and Wales No. 07617700.
© Copyright 2016 TREDIC ‎Corporation. All rights reserved